Ah, thanks. Just trying to bring my favorite CP back to life. Ummm... Jeff wasn't taking pain-killers... was he? --DemonJeff (talk) 01:00, October 26, 2015 (UTC)
Hey... am I going crazy or did the CP wiki reset? Now, rather than being at rank 1,000, I am now 3! How?! Are you in charge now? Tell me if I can help with anything! --DemonJeff (talk) 01:08, October 26, 2015 (UTC)
Hello once again! I am sending a picture to you. It's a picture of Bozo the Clown. Send me a story of what you think he does. Then, I will tell you what really happened. --DemonJeff (talk) 01:16, October 26, 2015 (UTC)
Here is the picture: --DemonJeff (talk) 19:39, October 26, 2015 (UTC)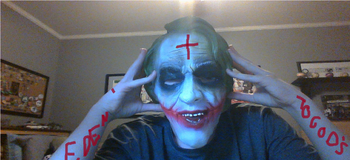 Satirical Legend (talk) 02:24, January 27, 2016 (UTC)Salutations.....Let me cut right to the chase.
Why did you Delete "Clockwork:Your Time Is Up"?
Wouldn't you gladly consider the story to be a Creepypasta original?
Do you have any suggestions for ways to promote my Creepypasta books? I want to know so I can get out there! Danke, --DemonJeff 00:15, February 2, 2016 (UTC)
Community content is available under
CC-BY-SA
unless otherwise noted.